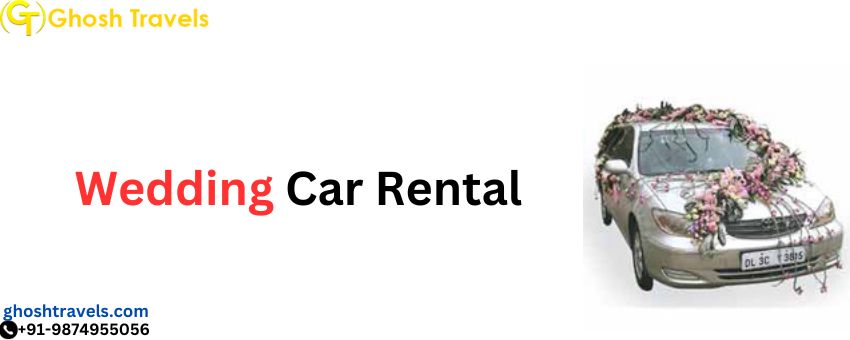 When organising a wedding, every detail counts, from the flowers to the music selection for the memorable first dance. Transportation is one of the most frequently disregarded but crucial aspects of any wedding. Wedding Car Rental Services in Kolkata provide tasteful and useful options that can elevate and comfort your special day.
Make a Striking Arrival.
Since a wedding is a once-in-a-lifetime occasion, it should begin with elegance. Making a spectacular debut while arriving at the location in a gorgeous, custom wedding dress automobile will leave a lasting impact on your guests. Classic antique automobiles and contemporary luxury cars are only two of the possibilities available for wedding car rentals. This lets you select the ideal one to go with your wedding's theme.
An Unforgettable Moment For a Picture
Weddings are the perfect way to save all the memories that last a lifetime. A leased wedding vehicle not only provides a striking entrance but also provides a fantastic background for keepsake pictures. These vehicles' elegant exteriors and sophisticated interiors might add intrigue to your wedding playlist.
Easy Access For The Couple
Brides and grooms are frequently under time constraints during the busy wedding preparations. This worry may be reduced by wedding car rental services in Kolkata, which can provide a luxurious vehicle on schedule. You may unwind and take it easy, concentrating on each other and having a good time on the trip.
Guest Transportation
Wedding automobile rentals may provide guest transportation in addition to transportation for the bride and groom. This is especially helpful if the locations of your ceremony and reception are different. You may guarantee that guests arrive on time by making travel arrangements for them. It lessens the possibility of inconveniences and delays.
Personalised Design
It's common for wedding car rental companies to let you personalise the car's accessories to fit your wedding's colour palette or theme. You may personalise the automobile with ribbons, signs, and floral arrangements. This personalization gives your wedding day a considerate and enduring impact.
Dependable Assistance
Selecting a wedding car rental services in Kolkata offers several benefits, one of which is the guarantee of dependable and skilled assistance. These suppliers are skilled at meeting the demands of the wedding party. They know how to make sure that their cars are spotless, and their services go above and beyond in terms of delivery.
Accommodating Your Bridal Party
Wedding cars are a great option for larger wedding parties as they can fit the whole group inside. It guarantees that everyone gets to the location at the same time. This facilitates wedding planning and allows for a shared experience.
Conclusion
Transportation shouldn't be disregarded even if wedding preparations might be a frenzy of options and decisions. A unique chance to add a touch of luxury, comfort, and elegance to your special day is presented by renting a wedding car. A wedding car rental can help you create priceless memories that you will remember for years to come. Choose from a variety of vehicles and services and arrive on your wedding day in style. Make sure it's a day your guests and you will remember for years to come.